Any woman who understands the problems of running a home will be nearer to understanding the problems of running a country. MARGARET THATCHER (more Margaret Thatcher quotes)
Motivational Success Quotes for Business in 2022
Success quotes are inspirational sayings that motivate people to work hard and achieve goals. For example "Success is never accidental." – Jack Dorsey and "Failure is success in progress." – Albert Einstein. The purpose of these phrases is to provide motivation and inspiration, help listeners withstand hardship and strive for greatness.
"All our dreams can come true; if we have the courage to pursue them." – Walt Disney
"However difficult life may seem, there is always something you can do and succeed at." – Stephen Hawking
"People begin to become successful the minute they decide to be." – Harvey MacKay
"It always seems impossible until it's done." – Nelson Mandela
"Nothing is impossible, the word itself says 'I'm possible'!" – Audrey Hepburn
"Success isn't overnight. It's when everyday you get a little better than the day before. It all adds up." – Dwayne Johnson
"It does not matter how slowly you go as long as you do not stop." – Confucius
"The more you praise and celebrate your life, the more there is in life to celebrate." – Oprah Winfrey
"Do what you can, with what you've got, where you are." – Teddy Roosevelt
"Success consists of going from failure to failure without loss of enthusiasm." – Winston Churchill
"Women, like men, should try to do the impossible. And when they fail, their failure should be a challenge to others." – Amelia Earhart
"Victory is sweetest when you've known defeat." – Malcolm S. Forbes
"Satisfaction lies in the effort, not in the attainment, full effort is full victory." – Mahatma Gandhi
"Energy and persistence conquer all things." – Benjamin Franklin
"Our greatest weakness lies in giving up. The most certain way to succeed is always to try just one more time." – Thomas A. Edison
"The only limit to our realization of tomorrow will be our doubts of today." – Franklin D. Roosevelt
"It is better to fail in originality than to succeed in imitation." – Herman Melville
"A man can succeed at almost anything for which he has unlimited enthusiasm." – Charles Schwab
"In most things success depends on knowing how long it takes to succeed." – Montesquieu
"There are no limits. There are only plateaus, and you must not stay there — you must go beyond them." – Bruce Lee
"Obstacles are those frightful things you see when you take your eyes off your goals." – Unknown

"No one is going to hand me success. I must go out & get it myself. That's why I'm here. To dominate. To conquer. Both the world and myself." – Unknown
"Obstacles are necessary for success because in selling, as in all careers of importance, victory comes only after many struggles and countless defeats." – Og Mandino
Success Quotes To Inspire and Help You Overcome Roadblocks
For some, there is only one motivation that they need, and that's providing for their family. For others (like Elon Musk, for example) motivation can be harder to come by – especially if your goal is to move the human race forward and onto Mars!.
Everyone feels like quitting at some point, and no one has all the answers. And even though it can be tempting to get under the blanket and shut out the world sometimes, quitting won't make the challenges go away. If you give zero effort, you'll have exactly the same number of chances at getting what you want.
If you can tune into your purpose and really align with it, setting goals so that your vision is an expression of that purpose, then life flows much more easily.

JACK CANFIELD
By recording your dreams and goals on paper, you set in motion the process of becoming the person you most want to be. Put your future in good hands – your own.

MARK VICTOR HANSEN
Nothing in the world can take the place of persistence. Talent will not; nothing is more common than unsuccessful men with talent. Genius will not; unrewarded genius is almost a proverb.

CALVIN COOLIDGE
Believe in yourself! Have faith in your abilities! Without a humble but reasonable confidence in your own powers you cannot be successful or happy.

NORMAN VINCENT PEALE
Awesome Motivational Quotes for Students Success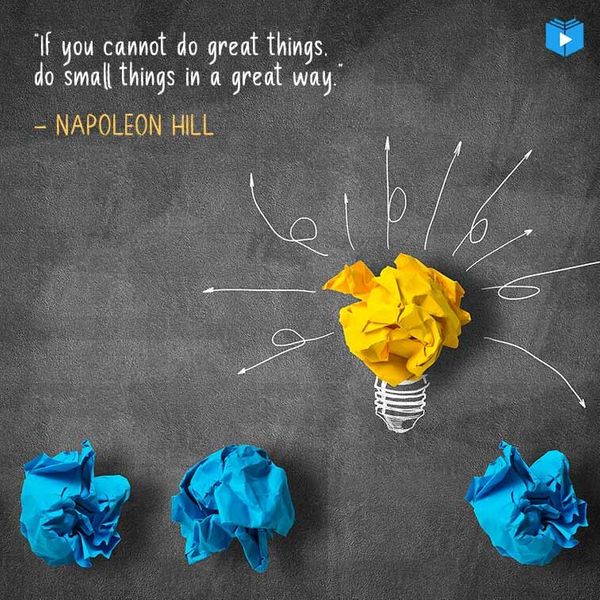 This is not just a motivational quote for students' success but one that everyone needs to apply in life. We often go behind bigger things and forget how little things can make a difference. If getting a good grade in all the subjects is your target, start with getting an A in one paper or one unit test. Ace one lesson and then go for the whole subject. If you don't have the supplies to make your project look fancy, put in your efforts, do your research, and give it all you got in order to make it a great project from your end. The idea is not to be better than others but to be better than who you were yesterday.
This is one of the most important motivational quotes to study hard. Quite often, one failure brings down the spirits of students. A single exam or failure does not define who you are. The moment you give up on yourself and stop working hard because you faced a defeat, that's when you are truly defeated. Your failure begins when you refuse to get up. Always remember that there's nothing that you cannot achieve if you work for it.
If you are looking for motivational quotes for students' success, this one is especially for you. You don't have to hurry. Take things slowly, at your own pace. You don't have to be in a race and become someone else. All you have to do is never stop trusting yourself and never stop growing and evolving.
"You cannot change your future, but you can change your habits, and surely your habits will change your future."-A.P.J. Abdul Kalam
Sir Abdul Kalam's life in itself is a motivation for students and everyone. This is a very powerful motivational quote for students' success. A small lifestyle and habit change can make a huge difference in your life. It might be how many hours you study, when you wake up or when you go to sleep, the books you read, it can be anything. But make sure you are doing something that would be beneficial to you in the future.
"Courage allows the successful woman to fail and learn powerful lessons from the failure. So that in the end, she didn't fail at all." -Maya Angelou
We've been here before. Failure is only failure if you don't learn from it. Let yourself get a bad grade on the test; you'll study differently next time. Let yourself fail at a relationship; you know how to build a healthier relationship next time.
If you think of the moments you learned and grew the most, were they easy times or hard times? Challenges make us better, smarter people [2] . You don't get wise through an easy life.
References:
https://teambuilding.com/blog/success-quotes
https://unfinishedsuccess.com/success-quotes/
https://www.goalcast.com/powerful-motivational-quotes/
https://blog.teachmint.com/motivational-quotes-for-students/
https://www.lifehack.org/articles/communication/30-quotes-failure-that-will-lead-you-success.html