20+ Page-Turning White Paper Examples [Design Guide + White Paper Templates]
There's a reason why white papers are considered a marketing staple. When created right, white papers boost your authority, solve problems for your clients and stakeholders and act as powerful lead magnets .
In this guide, you'll learn how to create and write white papers that engage readers, impress clients, and generate sales leads. No expensive agencies, complicated software, or design experience needed.

CREATE A WHITE PAPER
White paper examples we'll cover (click to jump ahead):
Businesses write white papers for a number of reasons. It's a great document to showcase a company's expertise in the field and to win over investors. A white paper can also be used for marketing purposes and brand awareness.
1. Create an eye-catching white paper cover page
2. Highlight key takeaways to summarize the information in your white paper template
As you can see in this white paper example, there's a whole section that highlights the key takeaways in the report. Because it's right on the front page, it's hard to miss, which is a nice touch:
Pro Tip: Not sure which template is right for your use case? Venngage has a massive catalog of 500+ professional and engaging templates you can customize today. No more boring Word documents or endlessly struggling with expensive design tools. Browse our white paper templates.
3. Incorporate photos in your white paper layout which resemble your target users.
Photos help create a connection between the information in your white paper and your reader. Using a photo on the cover also tells the reader what they can expect to find within the pages.
In this white paper template for a health-related paper, the image of a child with a sugary dessert connects directly to the topic. The reader will instantly know what the paper is about.
White Paper Examples (+ The Most Successful White Paper Example)
Big companies often use white papers to inform and educate their customers or huge brand customers about their platform and products. This is to help other brands become familiar with a company's product.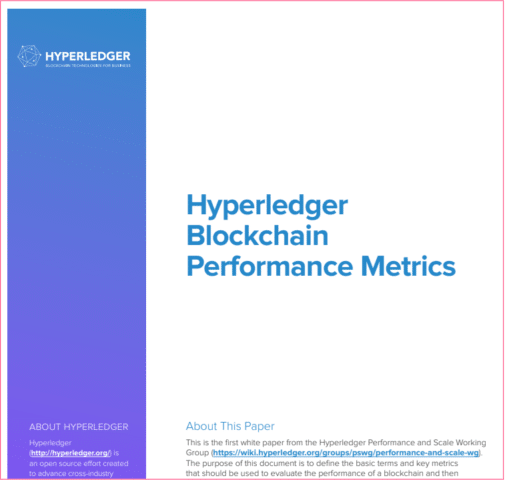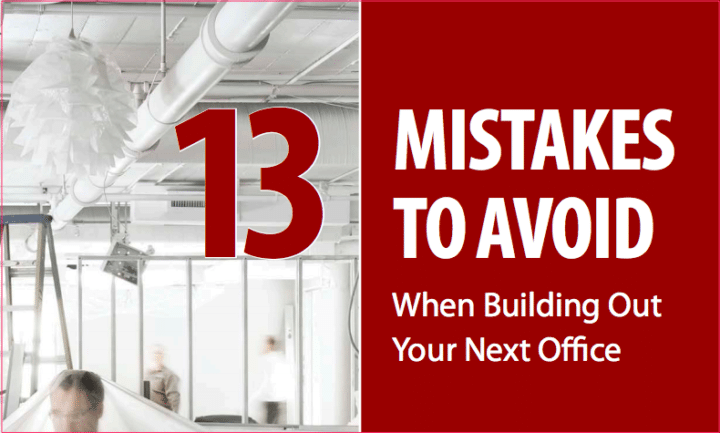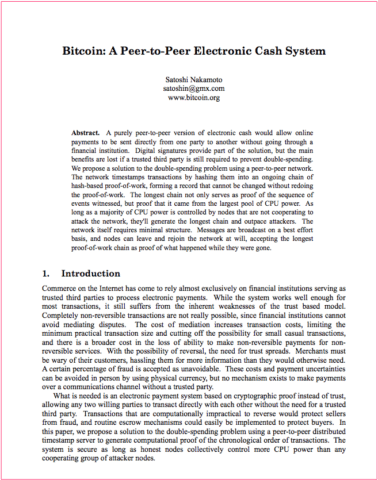 Types of White Papers
Overview – This is a product-based white paper that showcases the features and benefits of the product. This type of white paper highlights a product and helps educate a customer on how to use this product.
Comparison – This white paper compares products to help a customer decide which is the best option for them. These types of white papers are usually promoted towards the end of a sales cycle, when a potential customer is already interested in a product but doesn't know which one.
List – This type of white paper is the most similar to a blog post or article. A list white paper gives a reader tips or examples in a list format, making it an easy read.
Solution-Based – This presents a problem in the company's industry, current solutions that aren't working and offers a new solution or approach that works better than any of the other solutions mentioned in the white paper.
The first part is what to include at the beginning of your white paper, and the second part mentions more about the way you structure a white paper and how to end your white paper.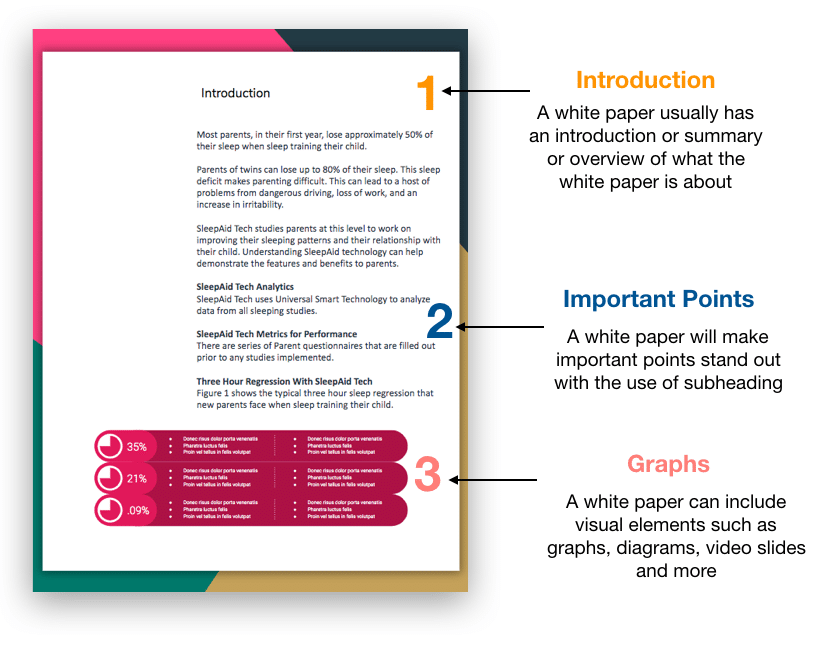 1. Table of Contents/Introduction
The introduction can be a summary of the entire white paper or an introduction to the problem or product mentioned. For the mockup white paper example, I used a fictional SleepAid Tech company, and the paper demonstrates their products and the features and benefits of each product.
2. Important Points
3. Graphs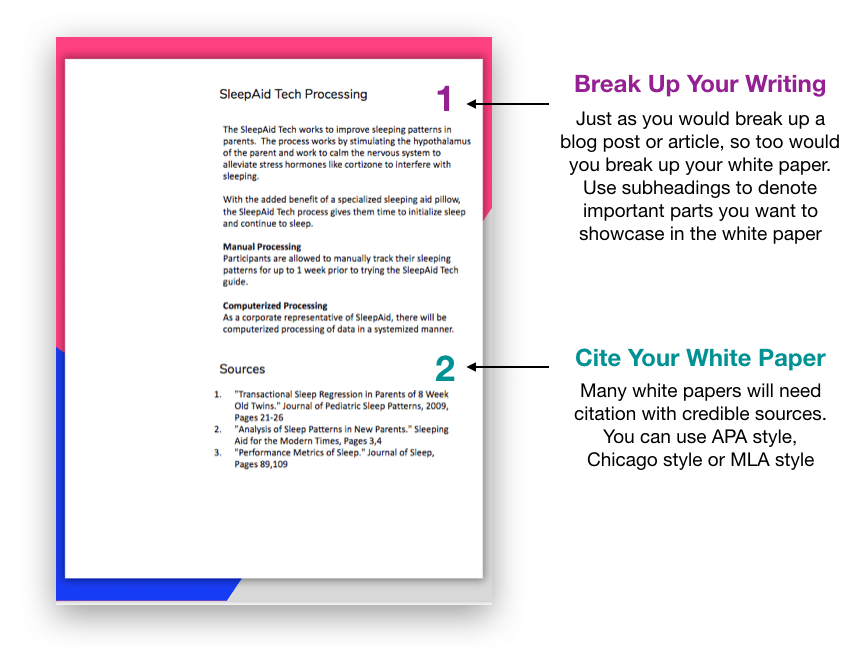 4. Break Up Your Writing
5. How to Cite a White Paper
How to Cite a White Paper Using APA Style
How to Cite a White Paper Using MLA Style
How to Cite a White Paper Using Chicago Style
Difference #2: The Goal
The goal of the white paper is to direct the reader towards making a specific decision. In one definition of a white paper, this type of document is "a persuasive essay that uses facts and logic to promote a certain product, service, or viewpoint." The author directs the reader to a specific conclusion using carefully-selected facts and logic, all with the desired result of portraying the product, service, or viewpoint in the best possible light.
In contrast, an academic paper will present the results of a study in order to contribute to the body of scientific knowledge, "warts and all." That is to say, the author's goal is to put forward data with analysis that add to the scientific conversation, to help clarify a bigger picture, and hopefully encourage further research. The author will build a logical framework with evidence from previous work, while acknowledging opposing viewpoints or possible contradictions. Every scientific paper will contain clear mention of the study's strengths and weaknesses, and any concluding statements will be carefully phrased in order to remain open-ended and neutral.
Difference #3: The Results
If the goal of the white paper produced by a for-profit company is persuading the reader to reach a specific conclusion, then the desired result of that document is a sale by the company that sponsored it. A white paper may not contain a sales pitch, but its carefully crafted message is intended to guide the reader to a specific decision: Investment in the product being described.
For a scientific journal article, the goal is to add to the body of knowledge in a meaningful way. Evidence of the relevance of this contribution can be the citation of that work in future presentation and/or articles published in the same field. Authors of significant work may also benefit from career advancement, requests for presentations at conferences and symposia, and availability of granting opportunities to continue their research. These results may seem amorphous to the layperson, but contributing to the vast body of academic knowledge is the pursuit of every research scientist. Just as the teacher aims to awaken a love of learning in a student, or a doctor works to heal a patient, the research scientist hopes to add a brick to the growing foundation of scientific knowledge, knowing that the brick may be the keystone to even greater discoveries.
This is not to say that all scientific papers add meaningfully to the body of knowledge, nor that all white papers are devoid of scientific value. Not all scientific papers are devoid of corporate influence, with some companies investing in research that then is published in an academic journal (with full disclosures in the publication). And not all white papers are a part of a corporate sales funnel. There are white papers produced by non-profit organizations, including professional associations, that are also persuasive rather than neutral. (An example would be a white paper about climate change produced by an environmental non-profit agency.) In these cases, the goal is to present and defend a specific viewpoint with no direct sales or commercial interest in mind. Some of these types of white papers will be published by trade magazines, appear in conference proceedings, and even be cited in other literature. While they are not neutral per se, they are not commercial in intent.
Commercial white papers can be helpful. For a potential customer considering a product, it can present a lot of information and statistics in a streamlined form, help the reader convince others about their support of a product, and identify practical ways to decide whether or not the product is a good match for one's needs. It's important for readers to always keep in the back of their minds, however, that it is a marketing tool that may not present a complete picture. In an academic hierarchy, the scientific paper will be considered superior, since they are unbiased and peer-reviewed. Ideally, a consumer will use both white papers and scientific research to make the best decision for their needs.
Resource:
https://venngage.com/blog/white-paper-examples/
https://elnacain.com/blog/how-to-write-a-white-paper/
https://blog.eoscu.com/blog/3-key-differences-between-white-papers-and-scientific-papers